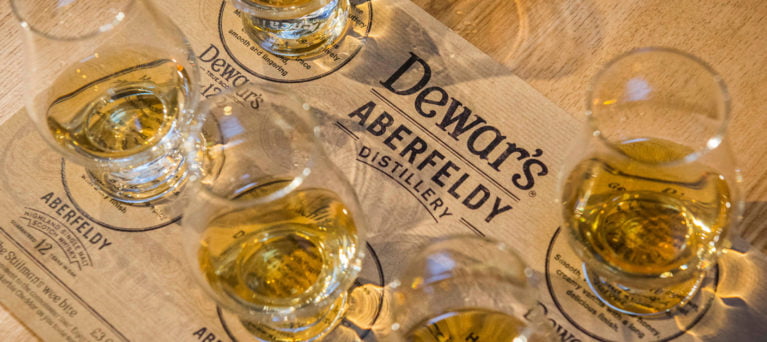 Dewar's Distillery – Cask Tasting Tours
Tue 1 June, 2021

-

Tue 30 November, 2021
Dewars Aberfeldy Distillery are offering complimentary Cask Tasting Tours with lunch in their café for carers and companion.
Join a tour of Dewar's Aberfeldy Distillery to discover how they make the beautifully balanced single malt at the heart of Dewar's Scotch.  Visit the warehouse to learn more about the angels' share and their unreasonable commitment to quality – double aging the whisky for a richer smoother flavour, before enjoying your single cask whisky tasting  drawn from a cask by hand by your whisky guide.
What is included in the Cask Tasting tour:
Distillery and multisensorial production process explanation
Self guided Heritage Centre experience
1 sample (25ml) / Driver's pack available on request (over 18s only)
Taste of single cask whisky from the cask in the warehouse
Complimentary glass
To book: click the Request Break break button above & the VOCAL Wee Breaks team will be in touch to arrange your break (please do not contact Dewar's Distillery directly).
Break available subject to latest Government guidelines.
This break has been gifted to carers in partnership with Shared Cared Scotland Respitality breaks.
Terms & Conditions
Break excludes travel and accommodation.
Strictly over 18s only. Children can accompany on the tour.
Arrival Times:
April to October (Monday to Saturday 10am to 4pm, Sunday 12noon to 2pm)
November to March (Monday to Saturday 10am to 2pm, Sunday closed.)
Some rooms in the distillery don't have wheelchair access. Lots of walking. Adjustments available. Full access statement available.