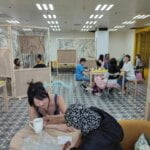 Creating Caring Communities Workshop
The Community Wellbeing Collective in partnership with WHALE Arts as part of the Edinburgh Art Festival Commissions Programme 2022 invite VOCAL Carer's to their Community Wellbeing Space on Sunday 21 August to attend a special event for carers focused on Creating Caring Communities at the Community Wellbeing Space, near Westside Plaza Shopping Centre, Wester Hailes.
The workshop will be hosted by local care workers and Care and Support Workers ORGANISE!
The workshops will focus on how do we care within a system that is so uncaring? What would a society based on care look like? How do we get there?
To find out more about the workshop visit their website: https://watchthisspace.online