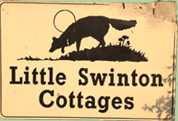 Little Swinton Cottage
Coldstream
Situated in a very peaceful location in the Scottish Borders far from the stresses and strains of modern life, Little Swinton Holiday Cottages comprise of three charming and spacious self-catering holiday cottages.
Cotoneaster is located at the end of an attractive terrace, and has plenty of space outside for guests' vehicles and children to play safely. Well-behaved pets are welcome in all the cottages. The Courtyard is very luxurious cottage standing adjacent to the farmhouse, it has its own drive with private parking and magnificent views of the countryside.
Less mobile and wheelchair bound guests will be delighted to note that The Courtyard and Cotoneaster Cottages are fully adapted for wheelchair users, with specially designed bathrooms plus a wheel-in shower with handrails.
Testimonials
"Good to meet up with other carers and share the experience of visiting Edinburgh Castle. Life is sometimes a monotonous routine where we do the same things over and over again-great to have something totally different and stimulating!
The trip to Edinburgh Castle was great for my social well-being and getting out; I really enjoyed the outing and having time to socialize and found the guided tour very informative."
"I look after my mother who has early dementia and was struggling to cope with the changing relationships with my mother and also other siblings.  The break away to Pittenween Cottage in Fife came just at the right time -it was a life saver!

The weather was beautiful, my sister and I went for a walk along the coast; the sun and views were stunning and we also spent an afternoon at the cinema.  The break has really helped to bring my sister and me closer together and I am now trying to make more time for me."
"I care for my son alone who has Asperger's and depression, I often feel isolated and have had some financial difficulties which makes take a break and enjoying hobbies very difficult.
I had a fantastic time at Pitlochry Cottage and found the area very beautiful, it was so quiet and relaxing and I was able to do some reading and walking in the surrounding area.I didn't cook at all and enjoyed the local take away!
I am feeling incredibly positive about all that is going on now and feel able to manage things better, the break came at exactly the right time and I was really able to enjoy my time away."
"I care for my daughter with mental health challenges balancing my caring role for her with working full time which I find difficult and a challenge as I don't often want to leave her alone for long or be too far away in case she needs me.
When the opportunity for a meal and passes to Gala Bingo came up I jumped at the chance, it was something local and not too far away from home. My friend and I had a lovely meal and game of bingo. We didn't win, although I shouted by mistake, but it was a great night –I haven't laughed like that for a long time!"
Norma has a dual-caring role, supporting her daughter and her gran. Norma's daughter Annie has autism and global development delay. Annie is developmentally at the age of a much younger child, similar to a 1 or 2 year old. Her mum helps her with personal and unfortunately Annie has arthritis so can be in pain a lot.

Annie needs constant care and support around the clock, and is non-verbal. Norma explains:

"She loves music and when often communicate through a sing-a-long! Sometimes she does object to my singing though! She loves anything sensory and loves trying new things and activities."

Norma also cares for her gran who has Alzheimer's disease, assisting with everything day to day, from shopping and appointments to bills and housework. Norma's gran's condition has worsened over the past few years and the challenges she was facing led her to contact VOCAL.

Lindsey, one of our Carer Support Practitioners, has supported Norma throughout her caring journey. She told Norma about the Wee Breaks fund and they worked together to apply for a break. Norma adds:

"I applied for funding as I wasn't able to afford a break and I got to a point last year where I couldn't spend time with my other two children due to Annie's needs taking over every part of my life. Both me and my two boys – Annie's brothers – all needed a well-deserved break."

Norma and her two sons went away for the weekend to Perth, staying at a hotel and enjoying all the local sights. They even went to a horror show at Scone Palace! Norma said:

"The break was a huge surprise for them. We stayed up late, ate too much and were far too silly but it was amazing. This gave me such a break from my usual reality. It's just constant at home but this was just the best opportunity to slow down, stop and enjoy some quality time together.

"Our holiday made me realise how heavy everything can be at times in reality, and that I do deserve a break. Going forward I'm going to make more of an effort to give myself some breathing space."